Axiever achieves ISO 9001 and ISO 27001 certifications
Axiever Team | September 17, 2021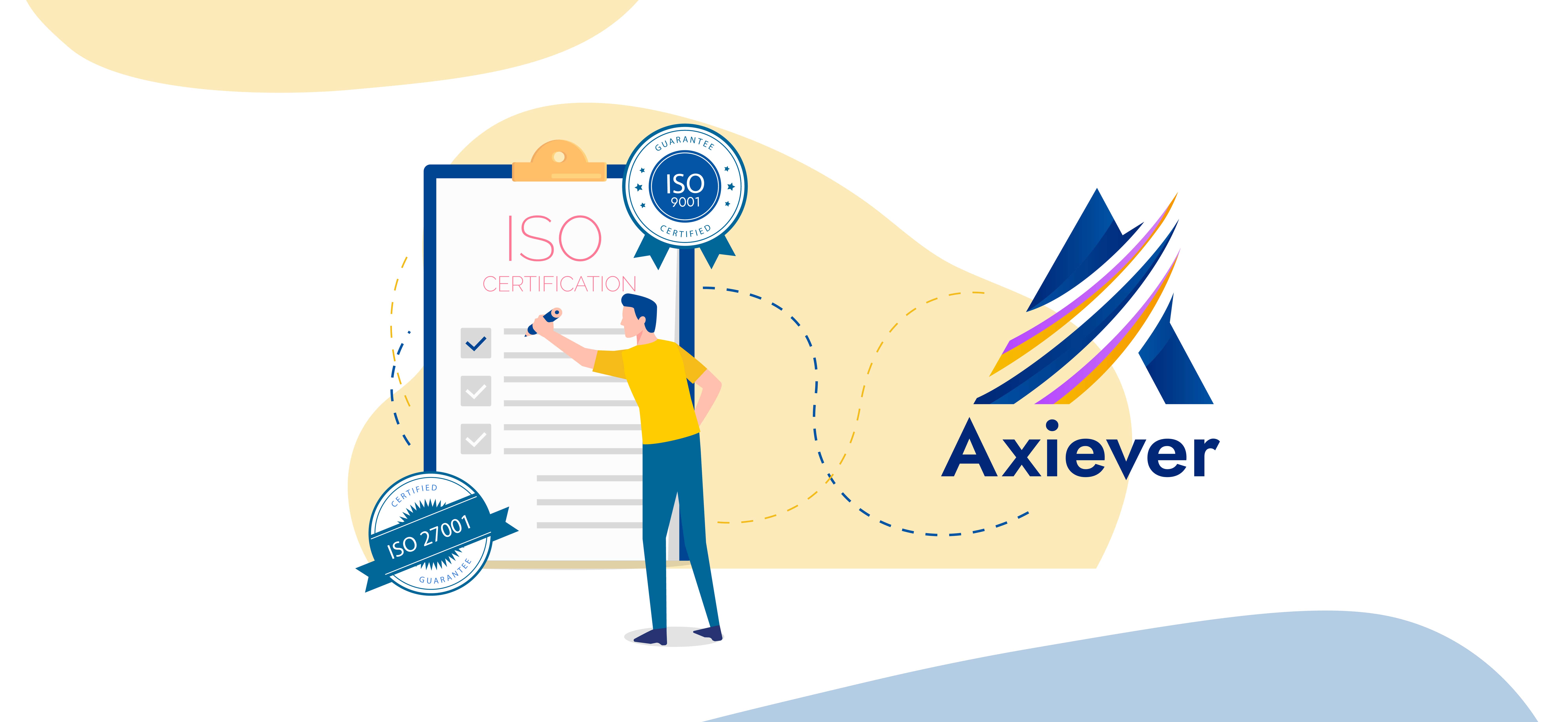 Axiever, a cloud-based SaaS software company known for providing ERP solutions to small businesses, announced as of September 13, 2021, that it has received both ISO 27001:2013 and ISO 9001:2015 certification. The impartial and independent audit and certification services were performed by the Universal Registrars. Companies that have been evaluated and determined to be in compliance with the two certifications include Design, Development, Implement, Consulting, Management, and Support in the field of:
Cloud Based Enterprise Resource Planning Services
Business Process Automation
E-commerce
Order Management
Electronic Data Interchange
Other Enterprise IT Domains
These certifications are a globally recognized standard, created and awarded by the International Standard Organization (ISO), an independent worldwide, non-governmental organization that creates standards in order to assure product, service, and systems quality, safety, and efficiency.
ISO 27001:2013 (ISO 27001) certification is given to organizations who show that their information management security system (ISMS) provides a systematic method to handling sensitive corporate information such as financial records, proprietary information, and third-party. The organization must also be able to demonstrate the implementation of a risk management strategy that includes people, procedures, and information technology systems.
By achieving the ISO 9001 : 2015 (ISO 9001) certification, organizations who have the capability to provide systems and procedures in place to guarantee that standards are fulfilled in all parts of their services. The certification enables organizations to monitor and control quality across their operations, resulting in satisfied customers and workers and a continuous improvement process.
Attaining both ISO 9001:2015 and ISO 27001:2013 certifications reflect Axiever's dedication to providing the highest quality and consistent service, as well as continued investment in technology, safety, best practice, and proper procedure. When it comes to ERP software, Axiever proves to be committed to empowering small businesses by allowing them to expand their enterprises, enhance their productivity, and build a better future.
About Axiever
Axiever is a cloud-based ERP system that aims to revolutionize and transform the operational processes and digital landscape of small and medium enterprises. Our cloud-based platform leverages a single source of truth to increase efficiency, enhance customer experience and accelerate the growth of an organization in a highly innovative market. We serve various industry sectors including warehousing and distribution, import-export, ecommerce and professional services industries. Axiever is designed to manage an organization's complex and sophisticated processes into a single unified and customizable platform.